As one of the first sports betting operators (established 1997), Unibet seized a good spot among the pioneers of the sports betting and they still offer more bet types than most other odds operators which is why it is such a popular site for sports betting. Apart from betting on matches, you can also place bets on various outcomes on the political stage as well as the musical stage where you can bet money on who will win the Eurovision song contest for example. Most Unibet bonus offers are risk free bets. To use a risk free bet, you first need to place a bet with your own money to get back the staked amount in bonus money if your bet is lost. The risk free bets are good incentives to keep players playing although the real value of these offers are incredibly low. Although the bonus value is quite low, the wide selection of games makes it possible to always play something of your liking.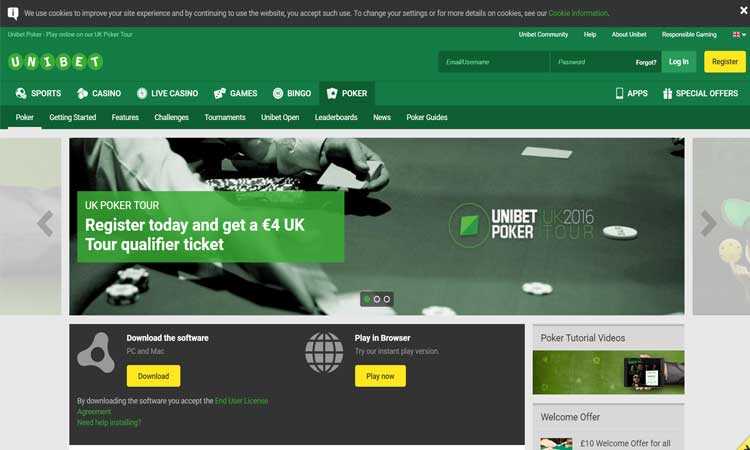 How to login at Unibet
Searching for "unibet com" in any search engine will provide you with the correct login page for the device you are using. There are 3 ways to visit Unibet. Through the site (www.unibet.com), through the mobile site (m.unibet.com) and through a Unibet app (can be downloaded from the unibet site). They have an app for their poker client, the casino, the live casino, odds, poker etc. The apps are quite easy to use although I prefer using the sites instead of apps, the sites can be found by searching the web for "unibet com".
Unibet TV & Live Stream
Unibet TV is where players can watch live streams of on-going matches/events to offer the opportunity to watch the events they are betting on. However, they take no responsibility for their live-score (the presented score in their live betting client) which means that your bet will be a loss if you lose a bet because of an incorrect result was being displayed. I can appreciate the vast bet types that is being offered, but I always prefer quality over quantity so I hope that Unibet can start taking responsibility for their products in the near future.
Enjoy a Unibet app
There's a ton of ways to play here. The apps are very functional although you need to surrender your personal integrity in order to use them which is why I always prefer to use the desktop/mobile sites: www.unibet.com or m.unibet.com
If you prefer using apps, you should visit the app page where you'll find 6 apps in total. There's an app for every product, for better or worse… The Unibet poker is actually quite underestimated, it was optimized to offer a better experience to all the players at any skill level. The new poker client is anonymous and very unique, compared to their competitors. There is one Unibet mobile app called SpinCity, this app allow you to save up sweet bonus rounds whenever you collect enough tokens. Although I don't play through this app, it's a very unique and cool concept for a mobile casino app.
The Unibet Casino
There's more than one app to play in this casino. However, you don't need an app to play. This online casino have all the different games and slot machines that you expect to find in an online casino. With 520 different casino games, there's not a lot of games to play in their casino. The amount of games can be compared to Dunder who have 800+ different games although they launched their site in 2015. If you have a question, don't send an email as the average waiting time is at 24 hours and their UK support is only available between 07:00-23:00 every day. A withdrawal is usually received within 2-5 days and they can take up to 72 to review your documents. This means that your first withdrawal should take roughly one week to receive.
Unibet Live
You will find odds on sport events in two ways: Live bets & Pre bets.
Playing on live bets provide extra chances to grab extra winnings on basically anything. You can play at any odds as long as you are using real money when placing your bets. While having bonus money on your account, you need to place all bets on odds exceeding 1.40. The odds are usually lower during the live bets than the pre-bets, for many reasons. All live bets need constant supervision to prevent incorrect odds, but it's also easier for players to "read" the game as soon as a match started. Remember to always use an external source to keep track of the scores in every game, I do this every time I play there nowadays due to all the money I've lost from an incorrect livescore. One of the most popular betting options is to bet on Unibet Wimbledon or the Unibet Open. However, there are a ton of bets to place on esports like Starcraft 2 and CS:GO, but you are also able to bet on any kind of political event or public entertainment acts such as the Eurovision song contest. Some but not all events can be played live, only some. But there's a tool to help you to stay aware of the different events being offered for live betting in advance. Simply visit the live calendar which can be found down on the left side in the Odds section.
Summary
All in all, this is a decent gambling operator. They put a lot of effort in being a responsible company while having a big team of reactivation agents who call inactive players in reactivation attempts to get them playing again. The bonuses aren't very super, but they offer odds on almost anything – which is why I choose to deposit there every now and then. However, I hate the fact that I can't trust Unibet's livescore tool and it can't be inactivated. This results in re-occurring misunderstandings, which I no longer consider misunderstandings.
Exclusive offer
Join Unibet today and get 100% up to £200 + a £10 poker bonus!
Usability

70%

70%

Bonus offers

30%

30%

Games offered

90%

90%
Special offer!
Get 100% up to £200 + £10 in a poker bonus today!