With over a century of experience in the gambling, Ladbrokes offer a full experience in their bingo and sports section. The Ladbrokes casino is barely worth mentioning with only 230 games in total, but the other products are all great and can be enjoyed smoothly from any device. The Ladbrokes exchange is equivalent to the Betfair exchange, where you play against other players rather than playing on odds which are being set by the gambling operator. This is possible through small commissions from gambling operator in question, ~5% of all winnings.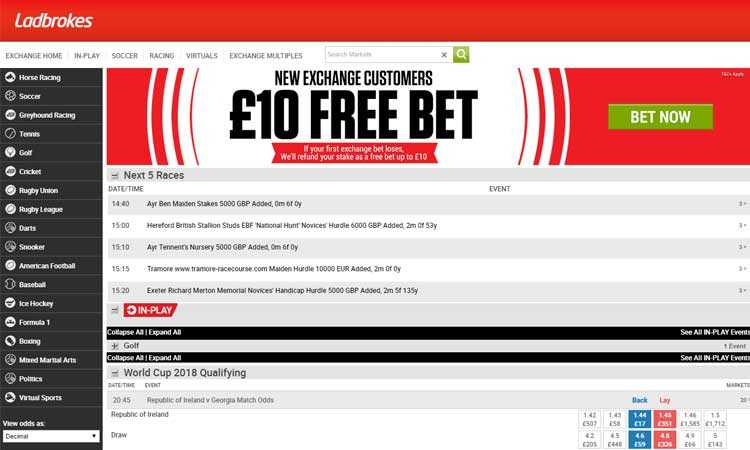 Ladbrokes App or Ladbrokes Mobile Site?
Playing on-the-go has become more and more popular throughout the years. A big question comes to mind when considering playing online. Should I use an app or the mobile site? The thing is, as a player – you should always try the mobile site initially since you'll save yourself from forfeiting some of your personal integrity. To use the mobile site, just make a search on the web for ladbrokes login. If you are dissatisfied with the experience through the mobile site, consider using a Ladbrokes app. There are actually 10+ different apps, each one is customized for a product to make the experience smoother and to eliminate redundant information and links. I'm confident that you will be able to enjoy playing Ladbrokes through your mobile.
Service & Processing Times
The customer service is supposed to be available 24/7, but the live chat has been available all 4 times that I've tried to launch it. There are basically no transaction fees for withdrawals nor deposits. However, the waiting time for a withdrawal can be up to 48 hours, which is a long time to wait for your well-earned money. Documents are also reviewed within 48 hours which means that you have a waiting time of up to 96 hours / 4 days (48+48) before your first withdrawal is received. If a gambling operator has the intent to become one of the best operators out there, the operator has to listen to the needs of their customers/players. An unreachable live chat and a super long waiting time for withdrawals would be the opposite of listen to the needs of players. Ladbrokes is one of the currently biggest gambling operators out there but that can quickly change if they don't keep their eyes on the prize.
The Ladbrokes Bingo Client
There are multiple bingo types and bingo rooms, each one offering a unique bingo experience. You'll find bingo chat games inside the bingo rooms, these are hosted by the bingo chat host to entertain players during their game-play. Bingo games are being played with 75, 80 and 90 balls but you can also try out the special bingo games which are run during specific hours of the day. The greatness of the Ladbrokes bingo is the low cost to participate (50p) for a chance to grab £1,000 in winnings! That's the beauty of the Ladbrokes bingo, anyone can join the bingo tables and play bingo using the tickets which match their bankroll the best. There's no absolute key to success, apart from constantly looking for it. Here, players can basically always buy bingo tickets for a cost which match their account balance while providing good chances of winning big.
Ladbrokes Games & Products
This site has it all, almost. There is a casino section here, although only 230 games in total. There are only 230 games in the casino section, but you'll probably love the Ladbrokes Sports / Ladbrokes Exchange if you're a sports betting player. The best way to enjoy Ladbrokes online is to play on the bingo client or in the sports sections. The Ladbrokes sports is a regular odds section where players play on odds which are being set by an odds compiler. The exchange section is slightly different, although it offer bets on sports. The exchange section allow you to play on bets against other players but you pay a small commission fee for all your winnings. This is probably the most fair way that you can gamble on sports online at any gambling operator. There are however other sportsbook operators that also allow players to exchange bets, William Hill is another example.
Company History
The name was acquired in 1902 and the company was sold in 1956 for £100,000. 7 years later in 1963, the company lose £1,000,000 on one single Saturday (2 years after the physical betting shops were set up all over the UK). The company was valued at £2,000,000,000 in 1993 and has been steadily growing since. The company eventually took the decision to merge with the Gala Coral Group in June 2015. This company has been around since before world war 2, a period where they saw the biggest decline in players using their products until the company was sold to Mark & Cyril Stein for a tiny little penny, £100,000! For an interesting read on Ladbrokes, visit wikipedia and make a search to find out some anecdotes about the company. For example, there have been numerous complaints against them for their treatment of employees.
Summary
There are thousands of available bets every week to bet on through the sports/exchange sections. In the Ladbrokes exchange section, the odds from the respective sections will vary due to how the odds are being set. The concept is very similar to a poker network where players play against each other while the poker network deducts small fees from the participating players. The odds will be determined by the volume of incoming bets – securing as fair odds as reality can provide. The bingo client is definitely the most popular product of this extremely old gambling operator. Although the amount of casino games is incredibly low, the site generally offer loads of other cool gambling features inside other sections.
Exclusive offer
Join Ladbrokes today and get 100% up to £500 on your first deposit!
Usability

82%

82%

Bonus offers

60%

60%

Games offered

90%

90%
Special offer!
Sign up today and get 100% up to £500 on your first deposit at Ladbrokes!
[wpv-view name="Alternate sidebar casino list"]